MFC-151
Multifunctional converter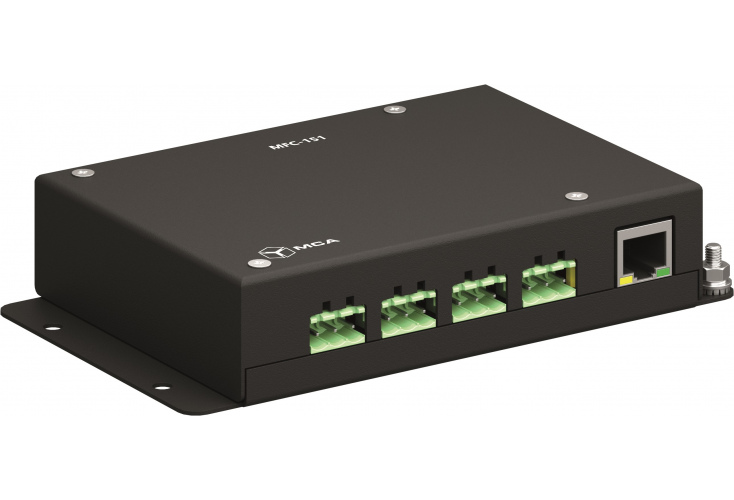 Description
Specifications
Files
Support
Where to buy
The converter is designed to receive, combine, convert and multiply NMEA 0183 messages transmitted over RS-422, RS-485, Ethernet and USB interfaces, with a configurable operating algorithm.
The converter has one Ethernet interface (UDP unicast/multicast), one USB interface, and six isolated RS-422/RS-485 serial interfaces (four of which are universal and can be configured for both input and output).
The converter consumes less than 7 W and has a wide supply voltage range (9.5 to 36.0 VDC) as well as overvoltage protection and reverse polarity power connections.
The converter is housed in a compact IP22-rated metal enclosure and mounted on a mounting plate. The wide operating temperature range (-15 to +55 °C) allows the converter to be used in harsh environments and unheated rooms.
Translated with www.DeepL.com/Translator (free version)
Functionality
redirection of flows;
duplication of messages;
decreasing/increasing frequency of message transmission;
filtering of messages by header;
message transmission with header substitution;
message transmission with conversion of the numeric value of the input message field;
organization of input channels redundancy;
adding / changing IEC 61162-450 tags;
message multiplexing.
How it works
MFC-151 processes data received from multiple inputs. Data processing is defined by a user-created schema using a unique MFC Studio utility.
Examples:
Multiport ................................. 1 to 6 serial inputs with Ethernet pass-through to a virtual COM port
Multiplexer & LAN .......... 2 inputs → 4 outputs with Ethernet redundancy
Multiprexor → LAN .......... 1 to 6 inputs with data transfer to the network
Flexible setup ..................... changing speed, frequency, filtering and data transfer/reception to the network
MFC-151 Functional Diagram
MFC-Studio
MFC Studio software is used to set up the converter. With MFC Studio, the user can easily create projects using ready-made blocks in various combinations as well as load projects into and out of the converter.
Select the desired item:
Drag and drop elements onto the schematic and connect them

inputs
outputs
filters
handlers
multiplexers

Set a property for each element
Save the diagram and load it into the MFC-151
Electrical specifications
Input voltage, V DC
9.5 to 36.0
Max. power consumption, W
7
Galvanic isolation of supply mains
yes
Protection against reverse polarity connection
yes
Overvoltage protection
yes
Connectors
Quantity and type of input connectors, pcs.
2 х RS-422/485
Quantity and type of combined (input andoutput) connectors, pcs.

4 x RS-422/485
1 x Ethernet
1 x USB

Supported protocols and standards

IEC 61162-1 (5 версия, 2016)
IEC 61162-2 (1 версия, 1998)
IEC 61162-450 (2 версия, 2018)
NMEA-0183 (версия 4.11, 2018-11)

Максимальная скорость передачи данных,бит/с
115200
General specifications
Weight, kg 0.46
0,46
Protection degree
IP22
Operating temperature, °C
−15 to +55